It wasn't love at first sight. But at first bite? Well, that's quite another story. Once bitten. Twice and you simply can't deny. It's infatuation. Captivation. Emancipation. You've been delivered to delirium by the 'magnificent nugget'. Shame? I think not. Wear those nutty crumbs with pride.
What's your Flavor
Dare to stare! Click for a close up! | Choose with or without chocolate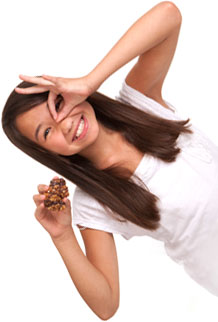 Much Ado About Nutwhats — At Nutwhats our 'free form' unadulterated buttery nuggets are hand-crafted using only top-notch measures. Without skimping — fresh, premium ingredients and not a bit of preservatives are the rule. Flavors are magnificently unexpected. Appearance is delightfully quirky. And the taste — unmistakable.